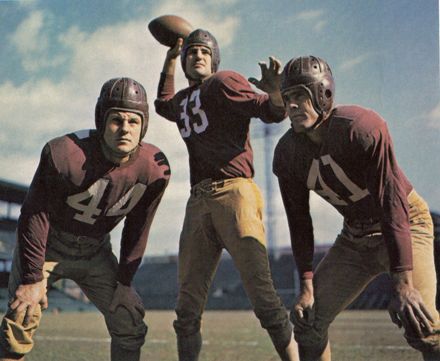 Sad news to report in the world of pro football. The Associated Press is reporting that former quarterback
Sammy Baugh
died Wednesday night at the age of 94. Baugh
reportedly had several
many health issues.
Baugh played 16 seasons (1937-1952) in the NFL, all with the Washington Redskins. Baugh went to six Pro Bowls and was named All Pro four times.
Baugh won two NFL titles. He led the league in passing four times. Here are some other stats courtesy
Pro Football Reference
:
Passing Yards- 21,886
Touchdown Passes- 187
Completions- 1693
Interceptions- 203
Baugh also coached for three seasons. He coached for the New York Titans (now known as the Jets) and the Houston Oilers. He had a 18-24 coaching record.
Baugh is in both the college and pro football hall of fame and was named to the NFL 75th anniversary team. Here's a tribute video to Baugh.